Swan 'killed and barbecued' in Windsor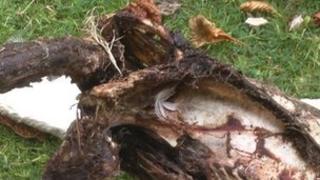 A swan has been found killed and barbecued in Windsor, say police.
The bird's remains were discovered at Baths Island on Sunday afternoon. It is believed it was killed at some point over the weekend.
Wendy Hermon, of Swan Lifeline, the charity that removed the carcass, said: "It was the remains of what looked like a swan that had been cooked."
She added that it was a "horrific" sight and said the carcass had been "stripped of the meat".
"They had skinned it as well and possibly barbecued it there, on a disposable barbecue," she said.
"We have no idea how it was killed, it could have been shot or beaten.
"I felt sick when I saw it. How can someone do that and leave it where they did?
"I would have been devastated if I had been walking along there with my little boy and he had seen that."
Andy Aldridge, senior community warden for the Royal Borough of Windsor and Maidenhead (RBWM), said: "It was found in an area where families go in Windsor so we've asked them to keep their ears and eyes open.
"It was disturbing, it's not a regular occurrence for us. It's something we need to take very seriously.
"We need to get to the bottom of who did this."
Mr Aldridge said the island where the swan was found was remote and only accessible via a small footbridge.
Thames Valley Police said killing swans, which belong to the Crown, would be treated as theft.
Swans also have statutory protection under the Wildlife and Countryside Act 1981.