Traffic fears over Berkshire LaplandUK plan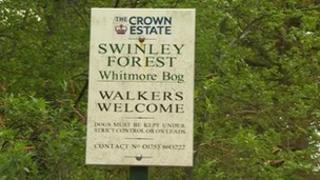 A Christmas-themed attraction in Berkshire will have "adverse impacts on traffic safety", a Berkshire council has said.
LaplandUK has applied for a three-year temporary licence to trade at Whitmore Bog near Bracknell.
But Royal Borough of Windsor and Maidenhead Council has raised concerns about the site's location.
LaplandUK said organised tours and pre-purchased tickets would avoid a mass exodus of visitors.
Spokeswoman Kate Etteridge said pre-selling tickets provided accurate information when planning visitor car numbers.
She added: "Provision will be made for all visitors to be parked onsite.
"A day trip to LaplandUK follows an organised tour for each family lasting three-and-a-half hours."
Bracknell Forest Council has recommended approval for the attraction in its Ascot ward.
But Windsor and Maidenhead Council, which borders the site, said it would coincide with other busy events in the calendar, such as Ascot Christmas races.
Nearly 300 objections
It said a town centre location where "more sustainable transport options are closer at hand" would be preferable.
LaplandUK previously operated in Lamberhurst, Kent, but owners Mike and Alison Battle indicated their plans to relocate to the Bracknell area last year.
Plans for Whitmore Bog, which is land owned by the Crown Estate in Swinley Forest, went on display in May.
If approved, it would operate between 30 November and Christmas Eve this year and between 21 November and Christmas Eve in 2014 and 2015.
All buildings and facilities would be removed from the site in the intervening periods.
Nearly 300 objections have been received along with a 47-signature petition raising concerns over traffic congestion, health and safety and the impact on the natural environment.
More than 400 submissions have been sent in support of the plan.
Bracknell Forest Council's planning committee will debate the application on 22 August.