Wexham Park Hospital upgrades A&E after formal warning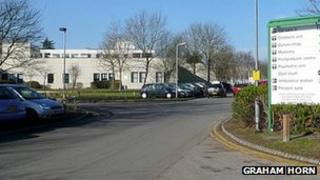 A Slough hospital given a formal warning by a health watchdog has started upgrading its A&E department to prepare for winter.
Wexham Park Hospital's emergency department was last updated in 1999 to treat up to 70,000 patients a year.
The department now sees 100,000 people a year but struggled last winter as many more people attended A&E than had been predicted.
Patients had to wait in corridors with ambulance staff and there were delays.
The Care Quality Commission (CQC) wrote a critical report on Wexham Park Hospital following an inspection in May.
Staff 'struggling'
It cited instances of patients being lined up in trolleys in the reception area because of a lack of space, and others with access to drugs that should have been locked up.
Staff were struggling with the volume of patients, and there were poor standards of cleanliness, the report said.
The hospital will now create a new waiting room complex and once open, the current facility will be converted into a triage area where all patients arriving by ambulance can be assessed.
In the longer term, Heatherwood and Wexham Park Hospitals NHS Foundation Trust was described as needing a new purpose-built A&E to make it "fit for purpose".
But A&E consultant Charles Litchfield said the upgrade would make a "huge difference" in the short term especially during periods of high demand.
"We will have more patient bays to ensure the privacy of patients is paramount, as well as more room in which to receive patients coming in by ambulance, where we will have senior clinicians able to make early decisions about their care."
The children's A&E department will also be upgraded and there will be new wards to ensure there are available beds when patients need to be admitted.