Fifield villagers seek to have last pub listed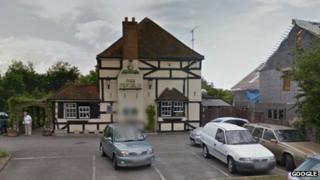 Residents of a Berkshire village have applied to have their last pub listed in a bid to protect it from being sold off for housing.
The Fifield Inn in Fifield could be marked an "asset of community value", if its nomination is approved by Windsor and Maidenhead council.
It would mean that if owners Greene King wanted to sell it, the community would be given the chance to buy it.
The firm has said it had "no plans" to sell the pub.
But residents became worried after two other pubs in the village were closed and turned into housing.
Bray Parish Council decided to submit the application "as a precaution" after freehold owners Greene King recently terminated the existing tenant's lease and, following a minor refurbishment, reopened the pub with temporary managers.
Not waiting
Parish councillor Helen Howard, who submitted the nomination, said: "This is the only pub left in the village and is an important social asset to the community.
"This is why we made the application - so it can continue to be so."
Borough councillor George Bathurst commended the residents, saying they had showed that "community groups don't have to wait until there is an actual threat before they are able to act".
The Royal Borough of Windsor and Maidenhead has until 27 September to consider whether the nomination meets the specified criteria.
Greene King, which owns about 2,300 pubs restaurants and hotels across the UK, has been advised of the nomination and will be able to object to the proposed listing, and can appeal should it become listed.
'Major redevelopment'
The firm said in a statement: "We have no plans to sell the Fifield Inn.
"Indeed, we are currently negotiating with new licensees who are local to the area. Once an agreement is signed, we have pledged to invest a significant sum in the pub and carry out a major redevelopment.
"These exciting new plans will mean that the pub will have to close for a short period during the refurbishment works but we are confident that, as a result, the local community will be able to enjoy a pub that is truly a local asset and one to be proud of."
If the pub is added to the list, Greene King will have to inform the council if or when it is put up for sale.
That would be followed by a six-week period during which it cannot be sold, giving community groups the chance to express an interest.
If they do, they then have six months to prepare bids. After that the owners are free to sell to whomever they wish.
There is no obligation to sell to a community group, but the legislation gives groups time to prepare a bid.