Windsor Games Walk Olympic mural's 'talking heads'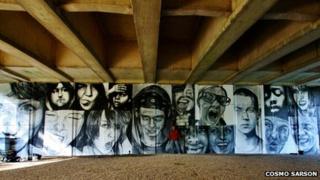 Faces on a mural created for the Olympics in Windsor can now "talk" to members of the public through a new smartphone app.
The 45m-long, 4m-high Younger Bridge artwork under Elizabeth Bridge was painted by London artist Cosmo Sarson ahead of the Games last year.
The free augmented reality app plays video and audio clips when the phone is pointed at the 16 faces on the wall.
The project's creators say it addresses modern attitudes towards young people.
'Truly delightful'
The interactive mural, which features the voices of East Berkshire Performing Arts students, is part of The Games Walk, a public art trail on the banks of the River Thames from Eton to Dorney.
Dan Eastmond, managing director of Firestation Arts and Culture, which commissioned the project, said: "I believe its the world's first talking mural.
"We asked the students about being young - their hopes, dreams, fears and how they think other people see them.
"It aims to address modern attitudes towards young people which is why it features someone with lots of piercings and another wearing a hoodie."
The project is now being supported by Berkshire County Blind Society (BCBS).
Don Reed, director of BCBS, described the project as "exciting".
"The video and audio has brought the art to life, literally and figuratively," said Mr Reed, who is visually impaired.
"It has also allowed visually impaired and blind people to engage with it - a truly delightful piece."