Caversham Bridge closure causes road delays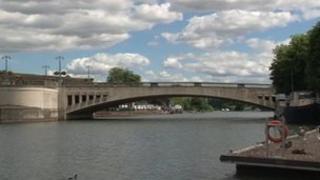 Drivers have faced long delays in Reading over the weekend due to resurfacing work on one of its bridges.
Users took to Twitter to vent their frustrations over the disruption caused by the closing of Caversham Bridge.
Natasha Chowdory said: "What an absolute fail with the road surfacing... gridlocked traffic." Twitter user Boanz62 described the scene on Saturday as "mayhem".
Reading Borough Council said delays were "inevitable".
Caversham Bridge is one of two bridges in Reading that cross the River Thames.
Traffic and bus services were affected as it closed from 08:00 to 20:00 BST on Saturday and Sunday.
'Extra resources'
Reading Buses said "heavy congestion" meant it was splitting its Vitality 2 service at the town centre to improve punctuality.
It added: "Extra resources have been brought in to help... sorry for any delay."
Tweeting on Saturday, Tom Behiry asked: "Close Caversham bridge on a Saturday day time? Whose genius plan was that?"
Thames United Football Club was also caught up in tailbacks.
"Thanks for closing Caversham Bridge on a Saturday, be lucky to get to the ground before Tuesday," said a tweet from its official account.
The work is part of a £1.2m project to resurface 17 major roads in Reading, which is expected to be completed by the end of the school summer holidays.
Traffic is being diverted across Reading Bridge.
It is believed to be the first time in more than a decade that the bridge has closed for works.