Slough council warns black henna could scar skin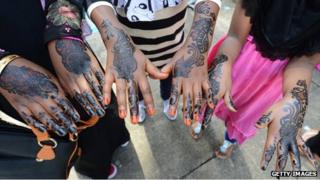 A council has warned of a banned cosmetic which can cause skin scarring after it was apparently used at an Eid party.
Black henna is illegal within the EU as it contains paraphenylenediamine, which can cause lasting damage to the skin.
Brown henna is commonly applied to hands before Eid al-Fitr, a religious celebration marking the end of Ramadan.
Slough Borough Council trading standards said any black henna found in shops would be seized.
Brown henna, which is made from a plant, is safe to use.
Slough has a large Muslim population, and the borough's trading standards officers are concerned that people may be buying black henna bought in from outside the EU.