Father of missing Gary Tweddle returns from Australia alone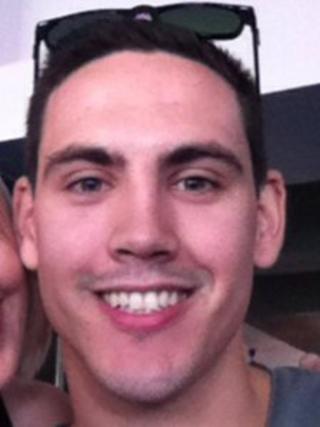 The father of a British man missing in Australia's Blue Mountains for three weeks has said returning to the UK without his son was "horrific".
Gary Tweddle, 23, who is originally from Reading but lives in Australia, disappeared after going for a walk near Fairmont Resort at Leura on 16 July.
His father David, who was in Australia to help searchers, said he still had no idea what happened to his son.
New South Wales Police said the search had been wound down.
Gary Tweddle had been staying in the Blue Mountains near Sydney for a work conference.
He was last heard from shortly after midnight on 16 July when he called a friend on his mobile phone to say he was in bushland, but that he was near a main road.
'Reality is acceptance'
David Tweddle has returned to his home in Berkshire after helping with the search which he described as "immense", involving more than 1,000 people.
"The place is so vast, the ravines and gullies are so deep, it is extremely difficult to find someone in those circumstances.
"It's the not knowing which is the really difficult part. To speculate is really difficult for me."
He described the decision to come home as "horrendous".
"The hardest thing for me personally was the moment the plane took off from Sydney - that was horrific.
"I won't ever go back to Australia - I always hold out hope but the reality is acceptance now.
"I couldn't ask for anything more from the emergency services and the people of Australia."
A spokeswoman for New South Wales Police said: "The search has been wound down but the investigation into Mr Tweddle's disappearance continues by detectives from the Blue Mountains."