Mapledurham House in helicopter flight compromise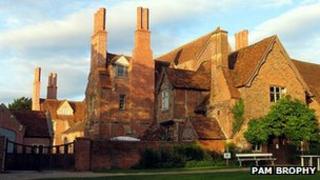 A stately home near Reading has reached a compromise with residents after complaints over noise from its sightseeing helicopter flights.
Villagers near Mapledurham House had said it was like "being in Vietnam".
The estate, which runs 70 flights over 10 days each year, said it had moved the landing site about a mile away.
Lola Andrews from the estate said pilots had also been asked to "get up quickly into the air rather than swooping" to ease noise levels.
Ms Andrew said: "We need the income. It's not by choice it's by necessity, farming is not enough to maintain the estate.
"Not only are we bringing people in here we are bringing people into businesses in Oxfordshire."
The estate on the Berkshire/Oxfordshire border cannot be forced to stop the flights as light aircraft noise is not covered by statutory noise nuisance legislation.
In May, Reading West MP Alok Sharma called for the helicopter to take off and land further away from the house to reduce the noise.
He said: "I am pleased that the Mapledurham Estate has been persuaded to change the location of their helicopter rides and I hope that this compromise solution will prove much less disturbing to residents."