Reading's Royal Berkshire Hospital spent £16.6m on IT specialists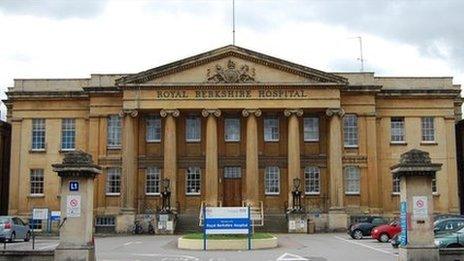 A Reading NHS hospital trust has spent £16.6m on IT specialists to launch its new computerised patient records system, the BBC has learned.
Royal Berkshire Hospital spent £28m on the technology - £18m more than was necessary, according to auditors.
A BBC Freedom Of Information request revealed £16.6m was spent on paying more than 200 consultants.
The trust said the system's launch "depended heavily on contractors with a high degree of specialist knowledge".
The BBC had earlier reported the Royal Berkshire NHS Foundation Trust had spent £28m on the technology, called Millennium, which auditors had valued afterwards at £10m.
Staff and patients had complained Millennium, developed by Cerner, kept crashing.
Around 40 IT specialists are still working on the system, which has so far taken five years to develop and implement.
In a statement, the trust said it had "invested in the expertise and experience required to successfully commission and deliver the new digital record".
Royal Berkshire Hospital moved to the electronic system as part of a Department of Health drive for a paperless NHS by 2018.
The trust said it had budgeted for the £28m spend and had "acknowledged that there are lessons to be learned".
But the Chair of South Reading Patient Voice Carol Munt said the extra £18m could have been spent on "additional patient facilities, upgrading some of the buildings, new equipment - it's an endless list and for it to be wasted in this way is a tragic shame".
System developers Cerner said the technology, "when successfully implemented", gave "doctors and nurses real-time access to high-quality clinical information which is critical in the delivery of world-class care for patients".
Related Internet Links
The BBC is not responsible for the content of external sites.