Ricky Gervais's David Brent releases 'Slough' song on YouTube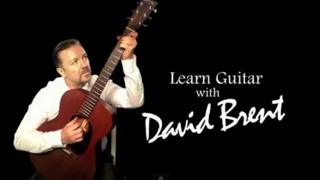 A musical tribute to the town that was the setting for The Office has been released by Ricky Gervais on YouTube.
Sung by David Brent, the middle manager who made Gervais famous, "Slough" pays homage to the Berkshire town.
The song, which includes the lyric "And you know just where you'll be heading, it's equidistant 'tween London and Reading," has been described by Gervais as Brent's love letter to the town.
It is the latest song in a series called Learn Guitar With David Brent.
The six songs released so far on Gervais's YouTube channel have received about 2m hits.
Album speculation
As he introduces "Slough", Brent rails against the town's detractors - most famous among them former Poet Laureate Sir John Betjeman - "people who've probably never been there, to be honest".
The former main man at the Slough office of paper merchants Wernham Hogg hails the town as his "favourite place in the world".
Brent then sings in heartfelt tones about how Slough's "station has got a new floor, and the motorway runs by your door" and croons the geographically specific couplet: "To the west you've got Taplow and Bray, you've got Hillingdon the other way."
Before writing "Slough", Gervais, who is from Reading, tweeted asking Berkshire residents to send him suggestions for the song's content.
Gervais, who had a brief flirtation with pop stardom in the '80s synth pop act Seona Dancing, told BBC 5 live's Richard Bacon: "I wrote Slough in New York - looking out across the greatest city in the world, but I channel Brent being homesick."
He added that he might record an album of the Brent tracks, as he has "about 16 songs".
But he warned: "If you're tuning in to learn guitar, you'll be sorely disappointed."