Slough council to investigate 6,000 suspected 'sheds with beds'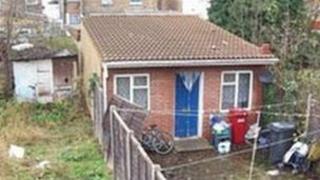 More than 6,000 outbuildings are to be investigated by a Berkshire council in a bid to target landlords who rent them out without planning permission.
Slough Borough Council said the outbuildings had been identified by aerial thermal-imaging in March.
The authority said further checks now needed to be carried out to establish whether people were living in them.
It had originally estimated up to 3,000 so-called "sheds with beds" existed in the area.
The investigation forms part of a £24,000 council project to deal with the problem of illegal occupation of buildings in the town.
Ray Haslam, the council's head of environmental services, said: "People may well be using their outbuildings for legitimate purposes, so we don't want to rush into assumptions that they're all being used for housing, but this certainly gives us a good starting point."
'Safety concerns'
The council said although many outbuildings were habitable, some were "unsafe, with little or no heating, or do not comply with building or fire safety regulations".
"People living 'under the radar' in outbuildings generate waste; they use council services; and they have a cost to the council that is not being paid for by taxation," the authority said.
By law landlords must hold a valid Energy Performance Certificate (EPC) for any property being rented out as accommodation. The council said it had already started checking to see whether the outbuildings identified had EPCs.
The authority, which has not put a timescale on the work, said each case would be dealt with "individually". It said options for the outbuildings could include forced demolition and retuning them to their original use, such as garages and storerooms.
The information gathered will also be used by trading standards, police and emergency services.