Reading's Thames Tower to be re-clad not demolished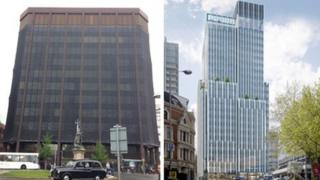 Developers who said they would replace a derelict building in Reading with a 25-storey skyscraper have scrapped their original plans.
LaSalle, which owns Thames Tower, planned to demolish the 1974 building and replace it with a "landmark" development.
It now says the skyscraper is "too risky" and plans to strip the tower back to its structure and reclad it.
Reading councillor Tony Page said he was "deeply disappointed".
He said there was "enormous public support" for replacing Thames Tower.
'Costly building'
However, he added he was "reassured" that the developer would continue to work towards the regeneration of the Station Hill area.
The development is next to Reading Station, which is currently undergoing a £895m revamp.
LaSalle's European director, Andrew Bull, said he still believed the site was "one of the best office locations outside London".
"Reading's economy remains buoyant, but the problems in the European and UK economies are continuing for longer than anyone had expected," he said.
"We do not have confidence that we can fill so much space at the rents required by such a costly building."