Berkshire homes without water during hot weather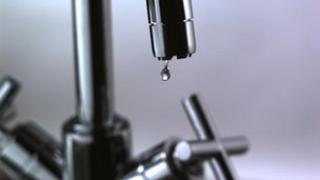 Hundreds of homes in part of Berkshire have had little or no water for 24 hours after a power failure caused pressure to drop.
Thames Water said about 500 customers contacted its call centre after pumps sending supplies to parts of Newbury and Thatcham stopped working.
The company said power had been restored but the mains pressure would have to be increased gradually.
Temperatures in the area are expected to reach 27C (81F) on Friday.
Some customers took to Twitter to complain their taps had run dry by 18:30 BST on Thursday.
Burst fear
A water company spokesman said: "A power failure yesterday caused pumps sending water to the RG14 and RG18 areas to stop working. This led to water pressure at people's taps dropping.
"We are really sorry for this. The pumps are now running again and water pressures at all affected properties will be returning to normal over the next few hours.
"We are having to take great care as we bring water pressures back up in the affected area. Letting water rush back into the mains can cause them to burst."
Earlier this week, Thames Water said temperatures of around 30C (86F) had led to a 15% rise in demand for tap water across London and the Thames Valley.
It said demand in the Thames Valley had increased by 100 million litres a day.
Jerry White, head of water for Thames Water, said: "At peak times of day in certain areas of the region, demand for water has been increasing by between 20% and 50%."