Immortalised with paper and scissors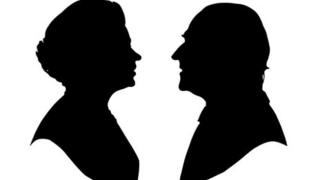 Some of the world's most famous faces have been turned into miniature works of art in silhouette.
The Queen, Bill Clinton, and Neil Armstrong are among those who have been made into small, paper silhouettes at the hands of Charles Burns.
The Reading-based artist has made a career out of some black paper and a pair of scissors, cutting more than 150,000 profiles to date.
Working all over the world, the former Covent Garden street artist uses adapted surgical scissors and black paper.
Mr Burns estimates he can snip out a quirky portrait in around two minutes.
He said "It all depends on their hairstyle, if someone's bald I can do them in 60 seconds."
He has snipped the Queen twice, including one portrait with Prince Philip as she celebrated her 80th birthday at the Ritz.
He said: "I must admit my hands were a little bit shaky doing that one.
"She was delightful, she went round the room showing everyone."
Other famous faces include Miranda Hart, Eric Idle and former England striker Gary Lineker.
Mr Burns said: "People respond to them really well, with Gary Lineker I couldn't resist putting his ears into the silhouette - he was very amused.
"A lot people don't know what they look like in profile - the hardest thing about my job is trying to work out how much truth can this person really take."
He added: "I am attracted to people with prominent profiles and incredible hairstyles, Mick Jagger is next on my list."
Silhouettes were very popular in the 18th and 19th centuries up until the point when photography was invented.
They were painted on to card or cut out and were often the only way for people to have a portrait due to the high costs of sitting for an oil painting.