Slough spy plane uncovers 210 suspected 'sheds with beds'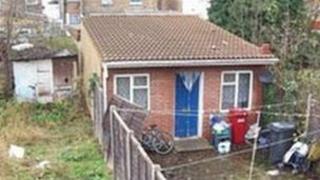 Investigations of the illegal occupation of sheds in Slough by migrant workers has led to 210 new outbuildings being identified by a thermal-imaging plane.
The council estimates there are between 700 and 3,000 so-called "sheds with beds", many of which are unfit for human habitation.
The authority said most also do not comply with building regulations.
Images, taken by the plane in February, will be used on a 3D map of the town.
The work was carried out as part of a £24,000 project to deal with the problem of illegal occupation of buildings in the town.
Only one of the 211 new outbuildings found by the plane had an energy performance certificate, a legal requirement for permanent rented accommodation.
The council will now investigate if the "sheds" are being used as illegal dwellings.
The information gathered will also be used by police and emergency services.