Royal Ascot dedicates Friday to the armed forces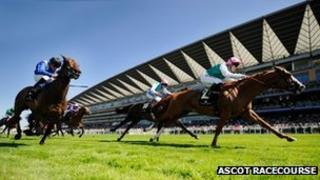 Royal Ascot has dedicated Friday to the armed forces for the first time in the race meeting's history.
It approved charity collections for all three services on the day and erected a pavilion for them.
A charity spokeswoman said she hoped "over time" the Friday would become associated with the forces in the same way as Thursday is with Ladies Day.
A Royal Ascot spokesman said he hoped the relationship with the armed forces would continue in the future.
Service personnel have been present at entrances to collect donations for the Royal Navy and Royal Marines Charity, ABF The Soldiers' Charity and the RAF Benevolent Fund.
Royal Ascot spokesman Nick Smith said: "Across the racecourse, adding to the colour of Royal Ascot, you'll see men and women in uniforms of the Royal Navy, Royal Marines and Royal Air Force who have given up a day's leave to represent their services as stewards and to collect for their three charities."
Five wounded soldiers from 145/2 Brigade Personnel Recovery Unit (Aldershot) were also invited by the racecourse to enjoy Royal Ascot with their wives and partners.
Mr Smith said the three charities had been chosen because "the racecourse felt the armed forces was an incredibly worthy cause".