Bovine Tuberculosis on Greenham and Crookham Commons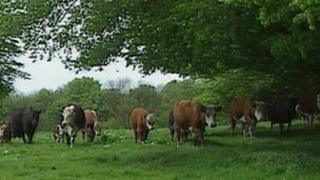 Bovine Tuberculosis has been found in cows grazing on common land in Berkshire.
Three of 80 cattle on neighbouring Greenham and Crookham Commons have been affected so far and movement restrictions have been put in place.
Newbury MP Richard Benyon called it "a worrying state of affairs for farmers".
Public Health England says the risk to humans is negligible as bovine TB is a different strain to the disease that can affect humans.
Cattle have been grazing on Greenham Common since it was turned into public parkland following the closure of the US air base in the 1990s.
The affected animals have been taken away for slaughter.
The disease, which can take years to develop, damages the animal's lungs and eventually leads to death.
West Berkshire Council said the area can still be used for recreation.
A controversial cull of badgers is under way in two areas of South West England.