Krishnamaya Mabo field death: Gurkha husband pays tribute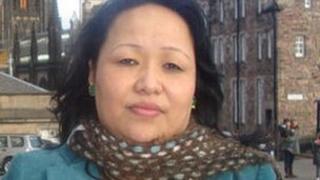 The wife of a Gurkha found dead in a field was a "charming, kind and caring" mother-of-three, her family has said.
Krishnamaya Mabo, 39, was discovered near Robin Hood Copse in Arborfield, Berkshire, last Monday. Post-mortem tests revealed she was asphyxiated.
A 30-year-old man has been charged with her murder and attempted rape.
Nepalese national Mrs Mabo had moved to England about 13 years ago with her husband, who was part of The Royal Gurkha Rifles regiment.
His first posting in England was in Folkestone, Kent, before moving to Arborfield five years ago.
Wedding anniversary
A tribute issued by her husband on behalf of the family said: "Her death has had a very big impact on our family. My life has turned, my children's lives have turned and we are going to have to adjust to not having her here with us.
"She [was] the best person I have known and was charming, kind and caring to all of her family and friends.
"We were due to celebrate our 20th wedding anniversary later this year and I was planning on buying her a special present for her 40th birthday, which would have been later this month."
Glenn John Nelson, of Eversley Road, Arborfield, has been charged with murder and attempted rape.
He is due to appear at Reading Crown Court on Tuesday.