King's Meadow Pool lease put out for tender by council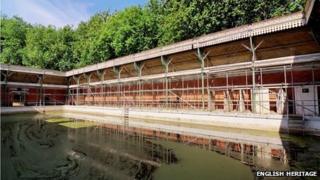 A group of campaigners trying to save an Edwardian swimming pool in Reading have criticised the council's decision to put the lease out for tender.
More than £1.5m is needed to renovate the King's Meadow Pool but neither the council, nor the Kings Meadow Campaign, has been able to find the money.
The council said it had been working closely with the group for two years but would not spend public money on it.
It said it hoped someone would come forward to take over the building.
The Grade II listed 1902 lido has not been in use since 1974.
In 2009 Reading Borough Council gave the campaigners two years to raise the funds needed to renovate the pool.
'Could be reopened'
Although the campaigners managed to get the building listed, they currently only have about £10,000 in the bank.
The charity said it wanted more help from the council to ensure the building was saved.
Richard Jessel, trustee of the charity said: "It's been left to deteriorate for nearly 40 years. It's been sat there doing nothing and nothing has been spent on it.
"Initially we just want to stop the deterioration. I'm certain it could be reopened, but a little at a time."
Mr Jessel said initially the pool could be boarded over and the building used for community events, while the campaign to raise funds for the pool renovation continued.
He added: "It's the biggest pool in Reading. It's got to be saved."
Tony Page, deputy leader of Reading Borough Council, said: "The council wants to see the building retained and preserved.
"We want to to see the building brought back into use but nobody on the council has proposed spending a single penny of public money on it so the bids need to be financially self supporting."
People or groups wanting to run it have until the end of the month to put their bids in on a 250-year lease.