'Worry' over Pangbourne caterpillar pesticide spraying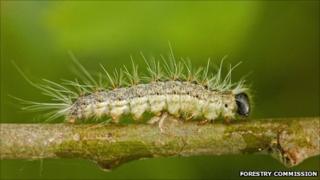 A Berkshire parliamentary candidate has said she is "worried" about pesticides which were sprayed in Pangbourne to eradicate toxic caterpillars.
The oak processionary moth can cause health problems so its larvae were targeted during the sprays in May.
Victoria Groulef, Labour candidate for Reading West, said her concerns included nearby roads not being blocked off during spraying.
The Forestry Commission said the spray poses no risk to humans or animals.
Labour South East MEP Peter Skinner has now written to the government on behalf of Ms Groulef who said she wants clarification on the specific conditions which must be in place when spraying is carried out.
Footpaths open
"I have raised several areas of concern including lack of public consultation beyond landowners and immediate residents and that spraying took place in wet weather, and it's possible that some of the pesticide has washed of, into the watercourse, onto the road and into drains," she said.
"Finally, I am also worried that the footpaths and nearby roads were not blocked off when spraying commenced."
The bacterial agent used during the spraying occurs naturally in soil but Butterfly Conservation and Buglife have also claimed birds, bats and rare insects were affected by the pesticide Bacillus thuringiensis (Bt).
The spraying was carried out by the Forestry Commission in Herridge's and Broom Copses. Both are within a Site of Special Scientific Interest.
"The operation was authorised by Natural England after close consultation with scientists and regulatory authorities to ensure it could be carried out with maximum safety and minimum environmental impact," a Forestry Commission spokesman said.
"Working with West Berkshire Council, we also made considerable efforts to inform local people via personal contact, emailings, posters, responses to enquiries, media articles and interviews, and information on our website."
A Defra spokesperson said: "Tree health is a priority for us and this pest not only affects our trees but can also cause skin irritation in people and animals."
Residents are urged not to touch the caterpillars or their nests and to report any sightings.