Henley 'Ama of the Thames' sculpture unveiled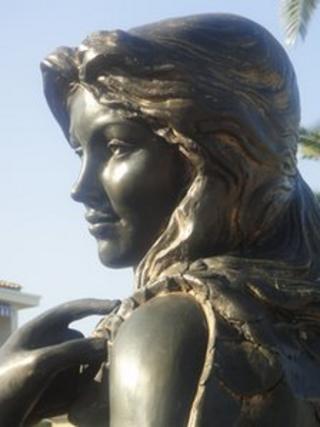 A mermaid sculpture - one of a series being installed around the world - has been unveiled alongside the Thames.
The bronze, two metre-high "Ama of the Thames" stands on the Red Lion Lawn next to Henley Bridge in Oxfordshire.
The sculptor, Amaryllis Bataille, has been sponsored to produce sculptures for 20 waterside locations.
Other sites include Thai Muang Beach in Thailand, Seoul in South Korea, Baja California in Mexico and Port Cavalaire in France.
They will eventually be sold or auctioned to raise money for charity.
The unveiling was hosted by Henley Town Council.
Councillor Samantha Evans said: "It's something to put Henley on the map. We have lots of beautiful elements to the town.
"Our view is that we are the most beautiful waterside place in the world and we felt we should be part of [the project].
"The mermaid can be seen from over the bridge and she can look all the way over the river. It's quite a quiet, private place that people can go and sit and enjoy."
Ama is the name given to Japanese women pearl divers, known as "ladies of the sea".
The project is being sponsored by the Art for Charity project, based in Germany.