Beatles Sgt Pepper's gypsy caravan unearthed in Ascot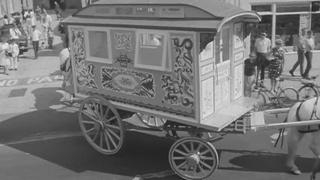 A gypsy caravan once owned by John Lennon and Ringo Starr has been adopted by a Berkshire charity.
Hidden from public view for more than 40 years, it was found at Ringo Starr's former Surrey home, having originally been bought in 1967 by Lennon.
A charitable trust, the Ascot Lawyers Foundation, has taken ownership of the piece of Sgt Pepper memorabilia.
Trustee and director Alan Carr admits he would like to see it handed over to a cultural museum in Liverpool.
The caravan - used in Sgt Pepper's Lonely Hearts Club Band - was kept at Tittenhurst Park, Sunninghill, in Berkshire, where Lennon lived between 1969 and 1971.
'Pretty dilapidated'
Mr Carr, 58, came into possession of the caravan after the owner of Starr's former home in Longcross sold up last year.
He admits his amazement after discovering it had been left under a tarpaulin.
He said: "It's in a pretty dilapidated state, but we're trying to piece together its history as much as possible and have unearthed pictures of it in better times.
"John Lennon originally bought it for his son Julian and then after his death, it was handed to Ringo from his estate, who also gave it as a present to his son."
Starr inherited the estate of Tittenhurst Park in 1973 when Lennon settled a debt with his former band mate.
Mr Carr added: "There's a part of me that would like to see it go to Liverpool, experts could then decide if it should be returned to its original Sgt Pepper glory.
"But, potentially it could also raise vital money for the causes we support locally and nationally."
The foundation say they currently do not have any estimates of the caravan's value, but experts predict it could generate significant interest at auction.
Other Beatles memorabilia has historically fetched big prices.
In 1985, John Lennon's psychedelic Rolls-Royce Phantom V sold for a reputed $2.3m and in 2000, George Michael paid $2.1m for the piano upon which Lennon composed Imagine.