New Swinley Forest bike trails 'to protect wildlife'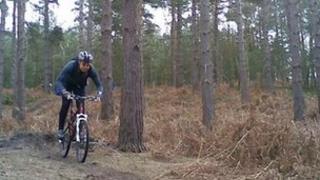 New mountain bike trails have been opened in a Berkshire forest in a bid to help protect wildlife.
The trails through Swinley Forest are designed to limit unrestricted mountain biking which was having a detrimental effect on ground-nesting birds.
The 15 miles (25km) of formalised trails are designed to appeal to hobby cyclists as well as mountain bikers.
Natural England said they would "protect the forest's conservation value".
It is thought more than 170,000 cyclists use the 1,000 hectares section of Swinley Forest owned by the Crown Estates each year, creating informal routes throughout the forest.
The new shorter trails avoid areas previously occupied by ground-nesting birds including woodlark, nightjar and Dartford warbler.
Crown Estate's chief executive, Alison Nimmo, said: "We hope that our investment in new facilities will reduce the number of serious accidents, widen the visitor offer and balance this with protecting the forest's delicate ecology."