Slough Metro Bank drive-through branch open for business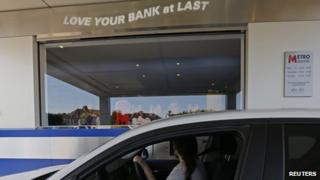 The UK's only drive-through bank, allowing customers to withdraw cash and pay cheques without getting out of their cars, has opened.
Metro Bank opened its 18th branch in Slough, Berkshire earlier.
The bank also has a branch in Reading and is planning to open two more in Berkshire in Windsor and Bracknell.
Chief executive Craig Donaldson claims its opening hours between 08:00 and 20:00, seven days a week, will give customers more flexibility.
Mr Donaldson said: "It's all about convenience for customers.
"Research tells you normal retail banking times are 08:00 to 20:00, so if that's when customers want to use it, banks should open then."
The Slough branch on Farnham Road has two drive-through lanes with cashiers as well as a full walk-in branch alongside.
Metro Bank opened its first branch in Holborn, London in 2010. By 2020, it hopes to have 200 branches open across the UK.
The Financial Services Authority (FSA) granted it a full banking licence in March 2010, the first of its kind for a high street branch in more than 100 years.
The bank's branches are characterised by bright, spacious lay-outs, which are said to be child-friendly. The bank also also allows dogs through its doors.
Drive-through banks are popular in the USA among business customers.
In the UK, HSBC announced plans to open their own drive-through branches in 2007, but eventually chose not to proceed with them.
Natwest has two branches, in Long Eaton and Watford, which allow customers to pay-in money only from their cars.
Barclays opened drive-through branches in Leicester and Epsom in 1959 and 1966 respectively, but the bank confirmed it no longer owns any drive-through branches.