Slough MP Fiona Mactaggart wants rush hour train changes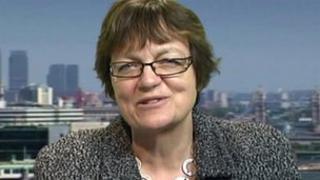 A Berkshire MP has written to Network Rail over "unacceptable" delays to rush hour services in her constituency.
Slough MP Fiona Mactaggart was responding to figures showing one in four rush hour trains between November and January were delayed.
She identified the £900m redevelopment of Reading station and network upgrades as major causes.
Operator First Great Western says season ticket holders will be compensated for the poor performance.
Spokesman Dan Panes said: "Season ticket holders should be seeing a 5% refund on their next purchase and this is a reflection of significant infrastructure problems in the Thames Valley.
"Ms Mactaggart is right to criticise the situation. It's not good enough and it's not where it should be.
"Rush hour is always a balancing act between the speed of services and the number which call at particular stations.
'Get a grip'
"That's something we will be working on with the Department for Transport as our extended franchise moves forward."
Services through Reading were suspended over the Easter weekend and earlier this month to allow new track and passenger facilities to be completed.
Network Rail is also upgrading the line from London Paddington to the west country and South Wales in readiness for electrification.
Ms Mactaggart admitted the changes will benefit commuters in the long-term, but called on railway bosses to "get a grip".
She added: "Timetables need to be real and true so during disruption they are achievable.
"What we've seen recently is an emergency timetable which didn't bear any relation to what actually happened.
"People running the railways should be able to deliver what they promise."
Network Rail route managing director Patrick Hallgate said: "We apologise for the delays and problems passengers experienced between November and January.
"We're spending £6bn improving the network and delays we're currently experiencing are largely due to renewing 50-year-old equipment which takes time to complete."