Shinfield eastern relief road to be built with £25m loan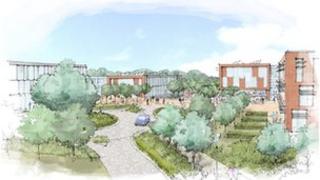 Plans for a relief road to help ease traffic in Berkshire are to go ahead with a £25m loan from the government.
Housing minister Mark Prisk has announced £24.7m of funding for the Shinfield eastern relief road and a Wokingham town centre link bridge near a new housing development in Reading.
The road supports plans for nearly 2,400 new homes and a science park south of the M4, creating 780 jobs.
Wokingham Borough Council plans to build 13,500 new homes by 2026.
The loan has been secured after a successful bid by the council and the University of Reading.
It is hoped the relief road will help ease congestion by diverting through traffic on the A327 at Shinfield.
A council spokesman said: "The money will allow the relief road to be built at an early stage of the development and so will help alleviate the impact of construction traffic.
"It will also help the development of the university's planned science and technology park, near Shinfield."
Mr Prisk said the £24.7m is part of a £225m pot being used to help "unlock" stalled development sites across the country.