Reading road repairs delayed further after Medieval bones find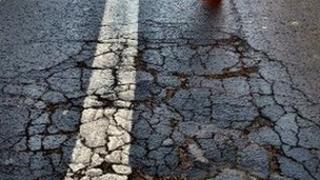 Repairs to a Reading town centre road have been further delayed due to sub-zero temperatures and the discovery of Medieval remains.
Work in Friar Street was due to end on Friday but the council said road surfaces cannot be laid in freezing weather so they are behind schedule.
The project was delayed after animal remains and soles of shoes from the 12th Century were found at the site.
Thames Water has also been working on a surface water sewer main in the street.
Reading councillor Tony Page said: "Unfortunately a combination of factors out of our control has meant these essential works have had to be extended into the weekend.
"We thank bus passengers and local business and residents for their continued patience while the emergency works take place."
Large cracks began appearing in Friar Street in Reading a month ago.
They are thought to have been caused by a collapsed Victorian clay sewer pipe found 1.5m (5ft) underground.
Thames Valley Police were called to the site after bones, thought to be from a horse, pig, cow or goat, were discovered on Tuesday.
Specialist archaeologists confirmed the remains date back to the 12th Century.
The council said the street could be reopened late on Saturday or on Sunday after works are complete.
Friar Street, a main bus route in the town, would remain closed between Greyfriars Road and Station Road with services diverted.