Reading Abbey revamp misses out on lottery funding again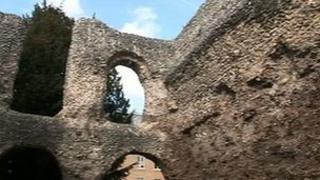 Plans to transform Reading's historic Abbey Quarter have been turned down for lottery funding for a second time.
The borough council submitted scaled-back plans after a previous £6.7m application from the Heritage Lottery Fund (HLF) was refused.
New plans prioritised work to conserve the 12th Century Reading Abbey ruins, but the council was unsuccessful again.
A council spokesman said it was "disappointed" and called Abbey Quarter a "nationally important heritage site".
The area also includes the site of Jane Austen's school and Reading Gaol.
The abbey was founded by Henry I in 1121, and the king was buried there.
'Not enough money'
Reading East MP Rob Wilson said last year an attempt should be made to find and unearth the king's remains after Richard III's skeleton was discovered in Leicester.
"It's very disappointing as the Abbey quarter should be a jewel in Reading's crown," he said of the funding refusal.
"I think we would have had more chance if we'd taken a leaf from Leicester's book and searched for Henry I as I suggested back in September."
A council spokesman said it would "be asking for feedback on the HLF decision and continuing discussions on a way forward to realise the project".
Stuart McLeod, head of Heritage Lottery Fund South East, said: "We recognise the significant historic role Reading Abbey has played from medieval times onwards as well as the need for it to be conserved.
"We know this must be very disappointing news but our recent board meeting was over-subscribed and highly competitive meaning we sadly did not have enough money to support all the applications we looked at on the day."
He said there would be further meetings with the council to find the best way forward.