Eton to sponsor Berkshire free school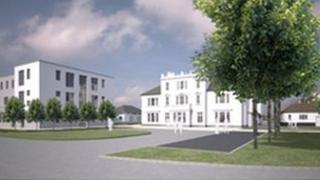 A private Berkshire college has joined the group behind a new state-funded free school near Maidenhead.
Eton College will be the "educational sponsor" of Holyport College.
The new school's 500 pupils will include 225 boarders, costing parents £9,000-12,000 per year, while daytime education will be free.
Education Secretary Michael Gove called the scheme "inspiring", but the National Union of Teachers branded it "privatisation by the back door".
Responding to the criticism, Eton headmaster Tony Little, said: "I am not concerned what the model is.
"This is using a practical route to create something that I believe in and which is of great value to young people."
'Outstanding example'
The new school, for pupils aged 11 to 19, will be non-selective and will open in September 2014.
Day pupils will come from the local area, while boarders will come from local families or further afield.
Simon Dudley, part of the team behind the school, said there are currently 36 state schools with boarders in the UK.
He said all pupils would benefit from the "close link" with Eton, which would contribute through staff time, expertise and sharing facilities.
Education Secretary Michael Gove said: "This is an outstanding example of a state-independent education partnership."
But Dan Thompson, National Union of Teachers divisional secretary for Windsor and Maidenhead, said having 45% of pupils paying to board amounted to privatisation.
He added: "The idea is for state schools to remain state schools."
Free schools, which anyone can apply to set up, are funded directly by central government and are free from local council control.
Holyport College organisers intend to submit a planning application in the next few weeks.