Newbury widow's anger over husband's hospital death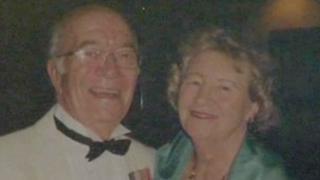 A widow who said her husband was put on an "end-of-life" care plan without her consent has criticised his treatment.
Norma Weaver's husband Leslie, 89, went into West Berkshire Community Hospital on 9 November and died a week later.
Mr Weaver had leukaemia, but his widow claims he was put on the so-called Liverpool Care Pathway without her knowledge or agreement.
The health trust said it could not comment on individual cases but confirmed it was investigating.
Mrs Weaver, 78, does not know if her husband agreed to be put on the care pathway, under which doctors can stop treatment for terminally ill patients.
'Sharp tongue'
"There are loads of answers I want and I intend to get them, not only for Leslie's sake now he's gone, poor darling, but for other people coming up," she said.
Mrs Weaver, from Newbury, said she was contacted by the Thatcham hospital after her husband was given morphine.
When she arrived he was unable to speak.
"That's the hurtful thing, that I couldn't say goodbye to him or speak to him," she said.
"People tell me he could hear me but that's no consolation because I couldn't hear Leslie answering me back with his wittiness and his sharp tongue."
Berkshire Healthcare NHS Foundation Trust offered Mrs Weaver its "deepest sympathy".
A spokeswoman said: "We are aware of Mrs Weaver's concerns which we are investigating.
"However, patient confidentiality means we are unable to comment on individual cases.
"The Liverpool Care Pathway may be used to support the end-of-life process at our hospitals but this is discussed fully with the patient (if alert), their family and their GP and consent is obtained from all parties before proceeding."