Reading man who ran illegal football streaming website spared jail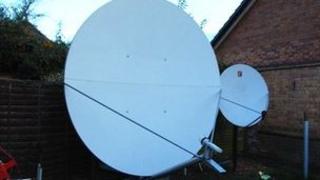 A man from Reading has been sentenced for running an illegal football streaming website, believed to be the first conviction of its type in the UK.
Gary Goodger, 24, from Ratby Close, Lower Earley was given a six month suspended prison sentence for copyright offences at Reading Crown Court.
Freelivefooty had illegally streamed live Premier League football matches to subscribers worldwide since 2005.
Goodger was also given 200 hours community service and a £1750 fine.
'Landmark conviction'
Goodger had set up Freelivefooty at the age of 16, Reading Crown Court heard, taking matches illegally from foreign satellite broadcasts using a two-metre satellite dish, seven computers and nine satellite decoder boxes at his home.
Numerous 'cease and desist' notices had been sent to the website on behalf of the Premier League but Goodger's activities continued, a Federation Against Copyright Theft (FACT) spokesman said.
Det Con Lisa Child, from Thames Valley Police's Economic Crime Unit, said Goodger was believed "to have made tens of thousands of pounds through illegally streaming football matches".
He and his accomplice Jack Bannister, 23, from Portal Grove, Burnley, were found guilty after a six-day trial at Reading Crown Court on 12 December 2012.
Goodger was found guilty of one count of communicating a copyrighted work to the public contrary to the Copyright, Design & Patents Act 1988.
Bannister was found guilty of transferring criminal property contrary to the Proceeds of Crime Act 2002, after he was hired by Goodger to process payments.
He was given 140 hours community service and ordered to pay £500 costs.
Speaking on Friday, Judge John Reddihough, said: "Undoubtedly you made, not vast profits, but some significant gain doing what you did.
"Ultimately it's the consumer who ends up paying, if there are less subscribers to a broadcast services then prices go up."
Judge Reddihough added the large number of other websites illegally streaming football matches called "for court to impose deterrent sentences", and that if it were not for mitigating factors of young age and previous good character that he "would have had in mind a custodial sentence".
The judge and lawyers were not aware of a similar conviction.
FACT director general Kieron Sharp said: "This is a landmark conviction as it is the first case that shows the criminal acts behind the live streaming and re-broadcasting of premiership football.
"I am sure this will act as a deterrent to others who commit offences of this type."