Bracknell Broadway and Crossway retailers given final deadline to move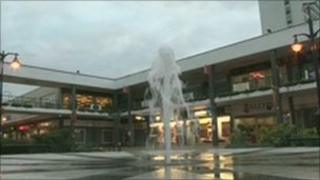 Retailers in a Berkshire town have been sent final compulsory purchase orders before their premises are demolished to make way for new buildings.
The Bracknell Regeneration Partnership will begin revamping Broadway and Crossway in June.
Richard Croydon, who runs a pet shop, said: "They'll lose the small shops. It'll all be the big conglomerates as they can afford the rent."
Helen Barnett, from the partnership, said retailers may leave the centre.
She added: "We are trying to find them secondary areas that are perhaps a little cheaper.
"It's possible that some of them may not stay in the actual town centre, but they will take their businesses slightly peripheral, or to some of the neighbourhood centres.
"The architects have looked very carefully at designing it because obviously what Bracknell doesn't have right now is modern retailing formats, which is why the retail mix isn't as good so people have been going to other places."
'Not viable'
The new shopping complex will consist of 15 new retail units, about 10 restaurants and a 12-screen cinema.
Mr Croydon said he would be bringing his business to a close.
He added: "I've just given up really, there's nothing you can do about it.
"We've looked at other shops but we can't afford to rent. It's not a viable proposition."
Designated as one of 10 new towns in 1949, Bracknell was originally built to help alleviate the housing shortages following World War II.
According to The Local Data Company in figures released in September, 22.6% of its shops are empty.