Atomic Weapons Establishment suspends production over safety concerns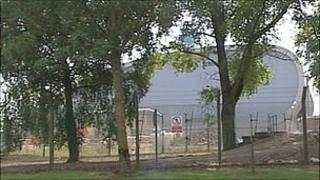 Work at a UK nuclear weapons factory has been halted over safety concerns.
It followed a routine inspection at the Atomic Weapons Establishment (AWE) in Aldermaston, Berkshire, by the Office for Nuclear Regulation (ONR).
An MoD spokesman said: "A regular inspection showed signs of corrosion in a steel column and AWE is now working to inspect the whole building."
But Green Party MP Caroline Lucas criticised the MoD's "ancient and rickety nuclear infrastructure".
The factory maintains warheads for Trident, the UK's nuclear deterrent.
'Serious questions'
Ms Lucas added: "Rebuilding it to modern safety standards will add even more to the massive costs of the programme."
The MoD spokesman said suspending production had not impacted work on the submarine programme.
He added that it was working to "assess the extent of the problem and consider how best to rectify it".
"Routine operations at the building have been suspended as a precaution," he said.
An AWE spokesman said: "We can confirm that on November 9 AWE received an ONR improvement notice concerning one of its older manufacturing facilities at Aldermaston.
"For security reasons we do not give out specific building details or numbers."
The notice gives a target date of December 2013 for completion of the works.