Newbury town centre on-street parking fees planned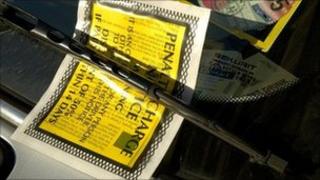 On-street parking charges could be introduced in a Berkshire town centre to deter commuters and encourage trade.
West Berkshire Council is writing to local businesses and residents in Newbury on proposals to charge for parking in certain streets.
The aim is to encourage more visitors but some business owners are concerned at the potential added costs.
Parking is proposed to remain free for 30 minutes in most locations and for disabled and resident permit holders.
If introduced, charges would apply between 08:00 and 18:00 Monday to Saturday, including bank holidays.
The cost would vary depending on the street, with a single daily charge of £1 on Sundays.
Brian Burgess runs a business in the town and anticipates spending an extra £20 a week if charges are introduced.
He said: "My main concern is for people who are parking in the town during the day who are office and shop workers and can't afford £14 a day to park in a town centre car park.
"They're currently parking for free on the street, but if the charges are introduced, they'll pay £4 a day which will come straight out of their wages."
West Berkshire Council already has on-street parking schemes in Station Road, Newbury and in Hungerford High Street.
Businesses and residents have until 1 March to submit their views to the council.