Berkshire free school meals numbers on rise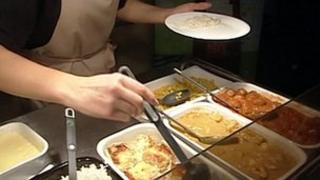 The number of free school meals taken by children across Berkshire has risen by a third over two years, Department for Education figures reveal.
In some districts, such as Wokingham, the uptake has risen by 60%. In Reading, nearly a fifth of all children receive free school meals.
Around 13,000 children have free meals at schools across Berkshire.
But charities say thousands more living in poverty are missing out because eligibility criteria are too strict.
Explaining the increased uptake, Colin McIntosh, head of school meals at Reading Borough Council, pointed to an increased awareness campaign.
He said: "A great success for us is that 81% of children in Reading entitled to free meals are taking them.
"We've made the application process and how schools can sign people up easier, meaning entitlement can be established a lot quicker.
"There's still a concern for us that many families are missing out. It's very important that if a child is entitled, they receive a free meal."
Extended entitlement
Children whose parents receive support payments including Income Support, Jobseekers Allowance and Child Tax Credit and do not earn more than £16,190 per year are eligible to receive free meals.
Criteria are set by government and enforced by local authorities.
Dr Sam Royston, policy advisor at the Children's Society, believes more than half of school children living in poverty, around 1.2 million, are still not receiving a free school meal.
He said: "Of those, 700,000 are not entitled to a free meal because they live in working families. The other 500,000 don't claim because of fear of stigma or not knowing about them.
"If you're a lone parent working 16 or more hours a week or a couple working 24 hours or more, you lose your entitlement to free school meals."
Dr Royston feels entitlement should be extended to all children living in families receiving Universal Credit - the new single payment for people who are looking for work or on a low income.