Newbury flood defences work begins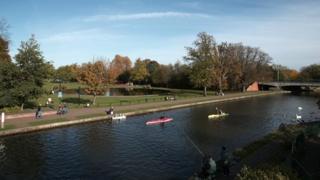 Work has begun to improve flood defences along the River Kennet in Newbury.
The scheme, which has been designed by the Environment Agency, will see tow paths in Victoria Park raised and new flood kerbs installed.
The flood alleviation work aims to reduce the chance of flooding to 1% in any one year.
More than 380 homes are set to benefit from the improvements with the scheme expected to be completed next month.
Temporary tow paths will be constructed through Victoria Park while the work is carried out.
An Environment Agency spokesman said: "Newbury is vulnerable to river flooding.
"Its canal and river banks and water levels are as much as 2.5m higher than the surrounding floodplain.
"There were floods in 1947, 1960, 2000 and 2003.
"Newbury also experienced flooding from surface water and groundwater in 2007 and there is a separate investigation into these sources of flooding."
The new flood kerb will protect residential areas at the north end of Victoria Park and the A339.
There are also expected to be benefits for the Faraday Road area.