Theresa May MP supports calls for new M4 hospital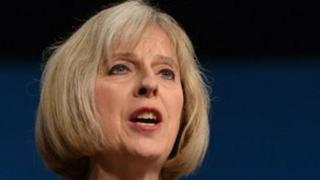 Home Secretary Theresa May has given her support to the idea of building a new hospital near the M4 in Berkshire.
The Maidenhead MP will join discussions on the proposed facility close to junctions 8 and 9 of the motorway at a public meeting in the town later.
Bracknell MP Phillip Lee has published a detailed report into what a Royal Thames Valley Hospital would look like.
The GP believes it could serve 650,000 patients in south Buckinghamshire, Berkshire and south Oxfordshire.
He said: "People are very parochial about existing services and existing hospitals. There's understandable resistance to change initially.
"These meetings are to educate people about how services will have to be consolidated in the future.
"Regional hospitals are likely to be the future model for healthcare as trusts look at the possibility of consolidating services."
Prime location
Dr Lee believes the proposal would see a new hospital located in a prime location for communities including Slough, Windsor, Ascot, High Wycombe, Henley-on-Thames and Wokingham.
Mrs May said: "I have long supported the concept of a new hospital at this location.
"Phillip has been able to take this forward and publish new proposals.
"It's an important part of the wider debate about the NHS in Berkshire, and I will always look for opportunities to safeguard and enhance local services."
NHS Trusts across Berkshire are yet to comment on the concept of a new hospital.
The public meeting takes place at the Maidenhead Holiday Inn from 19:30 GMT.