Refurbished Bracknell Library officially reopens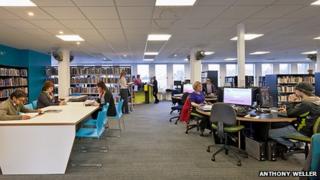 A library in a Berkshire has officially re-opened, following a £500,000 refurbishment.
Bracknell Library has had a new ground floor added, improved disabled access and WiFi installed throughout the building.
The building was closed for six weeks at the end of 2012 while the modernisation work was carried out.
Head of libraries Ruth Burgess said: "It's a huge improvement and we expect to see more people as a result."
Ms Burgess said: "It's important we bring it into the 21st Century. It's well valued and used but in the past has suffered from inadequate facilities."