Plans to demolish former Eton hospital block rejected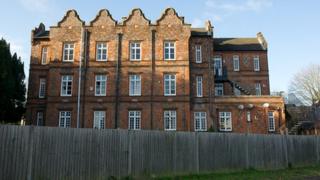 Plans to demolish a Victorian hospital building, owned by Eton College in Berkshire, have been rejected.
An application to replace the unlisted former Eton Sanatorium with town houses was turned down by councillors earlier.
The building, which dates from 1843, was used as a hospital block for pupils and later as staff accommodation.
Eton College said the nine flats inside were surplus to requirements and in a poor state of repair. Campaigners want to see the building preserved.
The Royal Borough of Windsor and Maidenhead's development panel unanimously rejected the planning application.
'Utter tragedy'
Local resident Maureen McLean was among more than 30 present at the debate.
She said: "We're delighted the committee went with the recommendation to refuse the application.
"To lose it would be an utter tragedy and there's a great deal of local objection to the idea."
Berkshire Archaeology, the Environment Agency, the Ancient Monuments Society and Eton Parish Council were among those to lodge objections.
Eton College said the building, which is not part of the Eton complex, was "right up against" the Windsor relief road and surrounded by new development.
A spokeswoman said: "As a charity, we are required to maximise the use of our assets to further our charitable objectives, which are primarily the education of our boys."
She added: "English Heritage looked at the building and decided that it did not meet any of the listing criteria - in particular, there are much better examples of isolation hospital developments of the time in the neighbourhood."
Kathy Clark, conservation adviser for the Victorian Society said: "This is a really appealing building,
"It has lovely Dutch gables and very distinctive diamond diaper patterns in the red brick."