Beenham wood mulch fire 'could burn for another month'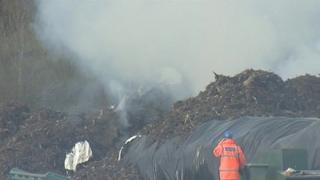 A fire at a compost-making plant in Berkshire which began five weeks ago could burn for another month, the fire service has said.
The fire at the Grundon-owned site in Beenham broke out in 1,000 tonnes of fermenting wood mulch on 30 November.
Royal Berkshire Fire and Rescue Service said the fire was still being monitored while it burned itself out naturally.
It covers an area of the size of a football pitch but the fumes pose no danger to health, a spokeswoman said.
Nicole Targett said the fire was in a remote spot and no homes or buildings were at risk, but smoke could still drift across local properties.
"It's like a giant bonfire," she explained.
"It's burning from the inside and it's just a case of letting the fire do its work."
Smell complaints
Ms Targett said there had been a some complaints from residents, mainly about smoke and ash.
The Environment Agency (EA) said it had received 15 complaints and West Berkshire Council 25.
A council spokesman said they had all come from residents in Padworth and the village of Aldermaston, who complained about the smell, smoke and ash falling on their cars.
The service made several attempts before Christmas to put out the blaze but was hampered by winds which exacerbated the smoke.
The fire involves wood chips, tree cuttings and garden waste which had been destined to be turned into compost.
The smoke can be an irritant and anyone affected has been advised to stay indoors with windows and doors shut.
Ruth Roll, spokeswoman for owners of the site Grundon, said the composting area was leased to Good2Grow, which had ceased trading before the fire broke out and therefore nobody was at the site at the time.
She said Grundon staff stepped in to help the fire service with machinery and manpower to create fire barriers.
Ms Roll said the recycling centre next door was still operating as normal and Grundon was prepared to assist the fire service if necessary.
The EA said it was investigating whether Good2Grow had breached any of its permit conditions, but it could not comment on what action it would take until that was completed.
Good2Grow has been unavailable for comment.