Royal Berkshire Hospital imposes norovirus restrictions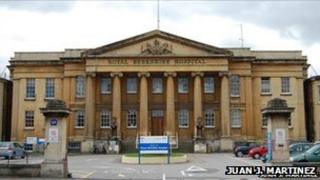 The Royal Berkshire Hospital has imposed restrictions on visitors to stop the spread of norovirus.
A small number of wards have been affected by the winter vomiting bug with only essential visits now allowed.
Parents whose children are patients can visit but should not bring any other children with them.
Cases of the virus this winter have exceeded 1.1 million across England and Wales, according to the Health Protection Agency.
A spokesperson for the Reading hospital said: "We have decided to introduce these restrictions to try as far as possible to prevent any further cases of the virus being brought into the hospital.
"We realise the restrictions will be inconvenient but hope that the public will realise the importance of taking every possible reasonable step to protect our patients."