Windsor Castle hydro power ready for test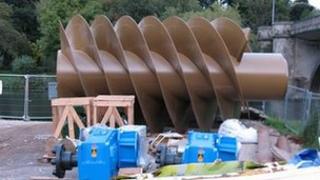 Testing of a hydro-electricity plant for Windsor Castle is being hampered by high water levels on the River Thames.
Two giant water turbines were installed at Romney Weir on the Thames in Berkshire in December 2011 to supply electricity to the Royal residence.
Installation of an 11,000-volt cable connecting the system to the castle is now complete, meaning the turbines are ready for testing.
They are expected to generate their first electricity in a month.
The scheme should have been completed in 2012 but was delayed after complications forced Southeast Power Engineering, which designed and built the turbines, to rethink where the cables should be installed.
'Running at night'
The cables have been in place since Christmas and now engineers are on site preparing the equipment for testing.
Project director David Dechambeau said: "We could be generating electricity but the river is so high. It needs to have a drop over the weir to make energy.
"After a month or so we will be running the turbines at night time and powering the castle and shutting them down in the day to continue testing.
Mr Dechambeau said he hoped this final phase would be complete and the turbines fully operational in about three months.
When ready, the multimillion-pound scheme is expected to provide more than half the electricity for the castle estate.
It would produce 2m kWh a year, which is enough to power 500 homes, said Mr Dechambeau.
Surplus energy generated by the turbines will be fed into the National Grid.