Reading announces civic area redevelopment plans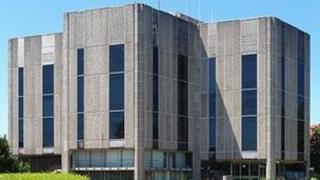 Plans to overhaul the Civic Offices area in Reading have been announced, with the council preparing a brochure to attract developers.
The regeneration will follow the demolition of the mid-1970s Reading Borough Council building after staff move to nearby premises in 2014.
Plans include a mix of new residential, commercial, retail, and leisure areas with a network of open spaces.
Council leader Jo Lovelock said a swift redevelopment was "essential".
'Eye-sore'
She added: "Obviously, re-development will not happen overnight so we will also be working on an interim plan for the site so that it will not be left as an eye-sore following demolition of the council offices."
Details of the interim plan have not been announced.
But a primary aim is to integrate the nearby Hexagon Theatre "into the heart of the town centre".
Other nearby buildings house Reading police station and the magistrates' court.
The council will move to nearby Plaza West in Bridge Street, Reading, at a cost of £59.6m, which was deemed the most cost-effective plan.
A council spokesman said the current civic office building was "at the end of its design life".
He added public access was difficult, "particularly for people with disabilities" and the non-risk "presence of asbestos" added to "the overall cost of maintenance".
Council officers will be meeting with neighbouring landowners and organisations to get their views on the redevelopment.
The brochure is due to be published in early 2013.