Ufton Nervet crossing signaller was 'over-worked', report says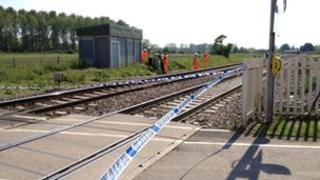 A report into a near miss between a car and a train at a level crossing has found the signal operator was dealing with an unusually heavy workload.
The incident at Ufton Nervet level crossing in Berkshire between Theale and Aldermaston stations happened on 4 September 2011.
A car approached the crossing with the barriers raised, but had to stop suddenly when a train from London Paddington went by at 61mph (98kmph).
The train stopped 500m down the track.
Nobody was injured in the incident.
Manually controlled
The report by the Rail Accident Investigation Branch (RAIB) found engineering work on the line between Southcote Junction in Reading and Westbury meant the automatic half barrier level crossing was being controlled locally.
It meant equipment that would normally automatically close the barriers had been switched off and was being operated manually by an attendant at the crossing.
The report made seven recommendations to Network Rail, including changing the work load of operators, especially during engineering work.
In 2004, seven people died in a derailment at the level crossing when a train hit a stationary car on the track.
In May this year, a man on a moped died at the same spot.
Following a campaign by nearby residents, backing to build a bridge over the railway line was announced in November.
Network Rail is working to secure consent from local landowners.