Greenham Common control tower could be community asset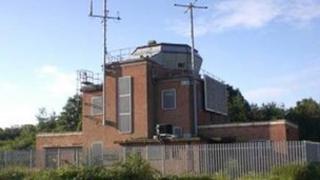 A former Nato airbase control centre is to be added to a list of buildings that could be sold as a community asset.
The tower on the edge of Greenham Common, Berkshire has been disused since the base closed in 1993.
West Berkshire Council has nominated it under the government's Community Right to Bid Scheme.
Greenham Parish Council has ideas for its future use, but admits it will need financial support to be able to bid for the tower.
Under Right to Bid, parish councils and charitable bodies such as partnerships and trustees, can nominate any building to be included on a list to be held by the local district council.
If successfully secured, the building must be used as a community facility.
Greenham Parish Council nominated the control tower and surrounding land to be included on West Berkshire Council's list. Their list of possible uses include a visitor centre and observation tower for the whole common or a military history museum.
Once on the market, Greenham Parish Council has six weeks to declare if it intends to put in a bid to buy it.
'Raising public interest'
But parish council chairman Tony Forward is concerned the process will do little to help them.
He said: "The legislation just seems to sugar-coat a sale, raising public interest more than anything else.
"Our biggest barrier is raising the money for a bid. Last estimates put it between £200,000 and £300,000.
"As our council tax precept is only £50,000 a year, I'm not sure the public would appreciate us spending their money on this for the next four or five years.
"A sign of the importance West Berkshire Council places in this as a community asset would be if they waived the costs of buying it."
Built in the early 1950s, the tower helped the base play a strategic role in the cold war.
Following the airbase's closure, Greenham Common became a public open space in 2000 and is now home to a nature reserve and business park.