Berkshire health services consultation enters final month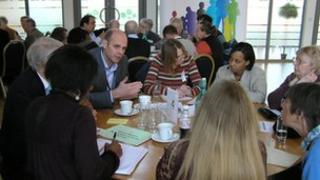 A public consultation into the future of healthcare services in Berkshire is entering its final month.
Three proposals have been put forward by NHS Berkshire over the future of services at Ascot's Heatherwood Hospital.
More than 150 people have had their say since the consultation began in October.
Windsor and Maidenhead Borough Council is opposed to moving a minor injuries unit at Heatherwood to Bracknell.
Councillor David Coppinger, cabinet member for adult services, said the consultation's proposals would lead to service cuts rather than improvements.
He said: "We are not against improving and enhancing services, but we don't believe the current proposals will benefit residents, particularly those in the Ascot and Sunnings area.
'Take the opportunity'
"The council is making a strong case for the retention of the threatened Heatherwood facilities."
Under the consultation recommendations, minor injuries services would move from Heatherwood to an urgent care centre in Brants Bridge in Bracknell.
It also recommends closing the hospital's Ascot Birth Centre and improving rehabilitation services for both stroke and general medical patients.
About 200 people have already attended five consultation events with three more planned in January.
Martin Leaver, from Berkshire NHS, said: "We would encourage people to come along and take the opportunity to hear more about the proposals.
"The consultation document questionnaires can be completed both online and in hard copy."
The consultation closes on 31 January and its findings will be reported to a joint Primary Care Trust board in March.