Maidenhead town centre revamp plan put on hold by council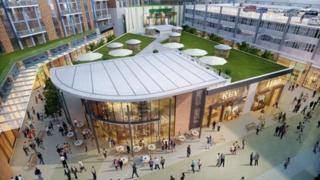 Developers have been asked to reconsider a £150m scheme to regenerate Maidenhead town centre.
Windsor and Maidenhead Borough Council's planning committee gave planners two months to look again at the proposal or reject it completely.
The town's chamber of commerce has called for the King's Triangle proposal to be thrown out for good.
But the council insists the scheme still has potential to succeed if developers improve their offer.
An outline application submitted by ING RED UK covers a retail, residential and office development for King Street, Queen Street and Broad Street, including a new multi-storey car park.
Reacting to the committee's decision, Peter Sands from Maidenhead's Chamber of Commerce said: "I'm not sure if it's good or bad news, but the chance to improve something that is currently inappropriate for the town is a good thing.
"I think the developers need to go back to base and really take a look at it."
Chairman of the planning committee, councillor Derek Wilson said: "The planning officers can now work with the applicant to address some of the key issues that have been raised by members of the public and councillors.
"As a result, there will be negotiations and hopefully a fresh application will come back in two months time."