Pop-up church in Reading shopping centre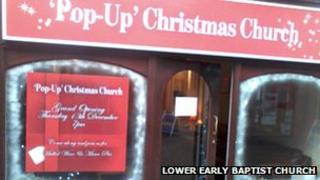 An empty shop in Reading has been converted into a temporary church for the Christmas period.
The "pop-up church" in Maiden Lane Shopping Centre has been set up by members of Lower Earley Baptist Church.
The Reverend Keith Wilson said it was about "taking the church into the heart of the community at Christmas".
It will offer Christmas shoppers a chance to reflect and take part in services, including a "carols and chips" night over the next 12 days.