Reading Buses supports initiative for blind passengers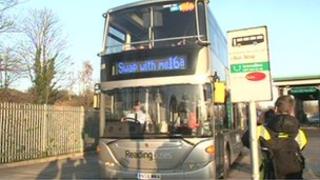 A Berkshire bus company is supporting a new initiative to give blind passengers greater support.
Transport Minister Norman Baker MP visited Reading to back the Royal National Institute of Blind People's Stop For Me, Speak To Me campaign.
It aims to highlight some of the challenges blind and partially-sighted people face when using buses, such as getting on and off at the right stop.
Events will be held across the country to raise awareness.
At the RNIB's first ever Swap With Me event, Mr Baker experienced for himself the problems passengers face as he wore a special set of glasses mimicking the effects of being partially sighted.
Drivers from Reading Buses and blind and partially sighted passengers also shared their experiences of travelling on board and communicating with each other.
James Freeman, from the bus operator, said: "About a third of our fleet now have voice announcements of the next stop, so those are the kind of technical things you can do.
"But it's also about understanding the human side and respect between people is something we've been working very hard on."